This post may contain affiliate links. If you buy thru these links, we may earn a commission at no additional cost to you.
---
Got an afternoon (or a weekend) to kill?
How about 70 bucks or so?
Then do like we did… be spontaneous, pack some snacks, maybe some camping gear, and rent a JEEP!
Where To Rent A Jeep
Who knew that you could rent fun vehicles like Jeep Wranglers in just about every state?!
The first time we rented a Jeep Wrangler was from Lee's Jeep & Scooter Rentals in Gatlinburg, Tennessee.
This was a year ago, and to this day, it's still one of our funnest memories together.
Why Rent A Jeep?
This is the way we chose to "test drive" a Jeep Wrangler before we actually bought one.
We knew that a Jeep Wrangler fit our lifestyle and that SOME day we'd probably be getting one, but this test drive would either seal the deal or have us thinking twice.
Turned out, just weeks after we rented this '94 Jeep Wrangler (and put nearly 500 miles on it two days!), we bought our own 1990 Jeep Wrangler YJ.
In fact, we discovered that we like Jeeps so much that we bought our second Wrangler, a 2004 Jeep Unlimited TJ a year later!
How To Get The Most From Your Jeep Rental Experience

There's no better way to run a Wrangler through its paces (both off-road and on) — with no obligation — than to rent one.
It's GOT to be the ultimate way to get a real feel for Jeep Wranglers and all of their unique qualities…
When you rent a Jeep you can take your time and analyze all the pros and cons of Jeeps in general, like:
whether or not you "fit" comfortably (…we've both got really long legs)
what it rides like (…is it REALLY as loud and bumpy as they say?)
whether you like 4wd or not (…you can try some mild offroading, within reason)
what the gas mileage is really like (…if that matters to you)
what it's like to ride in a convertible (…a Jeep is the ULTIMATE fun-in-the-sun convertible!)
whether the short windshield, placement of mirrors, etc are a problem (…they are awkward to some drivers)
what a different sized lift and clearance feels like (…helps you gauge whether you'd like a similar sized lift on your own Jeep
whether there's enough cargo space (…to fit your lifestyle)
Renting A Jeep In Gatlinburg
Here are the highlights from our Jeep rental weekend:
Of course, it started pouring rain about 15 minutes after we rented the Jeep! Just our luck, Lynnette & Jim are in Gatlinburg?… Mother Nature gets the signal to drop a load from above!
We were told there was "a bikini top" in the back of the Jeep in case it rained, only we didn't know how to put it on. Therefore, Lesson #1: Always know your options when it comes to rain, and test out those options beforehand!
Here's what the inside of our rain-soaked Jeep looked like after we got drenched from head to toe (and roof to floor!), thanks to 20 solid minutes of pouring rain with NO roof — other than a wimpy tree that we tried to gain some shelter under.
Next, we decided to learn how to put the bikini top on.
Here's Jim attaching the bikini top to the Jeep. It's a cinch once you get the hang of it.
Then, we decided to try to get lost out on the backcountry mountain roads around Gatlinburg.
Toward the end of the day, we had found a deserted old "Jeep Road". At this point, we had gone about 7 miles down this narrow, twisty 28-mile 4WD road between North Carolina and Tennessee (poking along at about 10 mph while dodging rocks, stumps, and mud holes!) when we found this.
It had taken us nearly 2 hours to go 7 miles, so we were not looking forward to backtracking this route! Jim thought about going OVER it… or UNDER it… or even MOVING it — after all, this was a 4WD Jeep — but it was no dice.
…Sometime around MIDNIGHT, we eventually made it back to our cabin!
That night and the next morning, here's where you could find us: in the Jacuzzi!
More Tips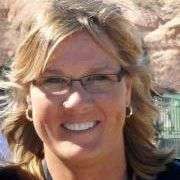 Since we've been married, my husband and I have owned 5 Jeeps (3 Wranglers and 2 Grand Cherokees). And when we're not driving our own Jeep, we're usually renting one (a 4×4 Wrangler on vacation). We keep a Jeep Bucket List of places that we'd like to go next, and we're always crossing more states off our list of 'Places That We've Jeeped in the USA'. As our daily driver, we keep the soft top on our Jeep Wrangler year round (and the back window permanently rolled up) so the dogs can enjoy the ride. Yep… even in the winter! I've been sharing my best Jeep ideas with others by blogging full-time since 1998. When I'm not Jeeping or writing about Jeeps, you'll find me at the corner of Good News & Fun Times as publisher of The Fun Times Guide (32 fun & helpful websites).