This post may contain affiliate links. If you buy thru these links, we may earn a commission at no additional cost to you.
---
I was going through my collection of digital photos and realized that I haven't shared the photos from our road trips along the 'Tail of the Dragon' yet.
The Tail of the Dragon at Deals Gap, with 318 curves in 11 miles, is America's number one motorcycle and sports car road.
It's definitely a daredevil stretch of roadway. (For example, check out these Tree of Shame photos!) But that's not why we go there. We go there for the scenic views and a fun ride in the Jeep with the top down.
I'm sure the motorcyclists hate us for that, because we just get in their way when they're trying to take the rapid turns… fast!
While we're not the only car on the road… vehicles other than motorcycles are definitely in the minority.
That said, there have been a bunch of fatal wrecks on this particular road, and I remember reading that most (if not ALL) of the deaths occurred while the drivers were headed NORTHbound on Highway 129. Hmmmm….
For the most part, what makes this road unique is the number of sharp (very sharp!) turns within a very short stretch of roadway.
They say the Tail of the Dragon is like a roller coaster ride — but better — because you are in full control behind the wheel.
Here are some highlights…
Our Favorite Way To Do The Dragon (In A Jeep)
Whenever we go out to ride along the Tail of the Dragon, it's usually because we're in a bit of a funk, and we're just dying to run wild in some new territory.
Kind of like the words from Pat Green's song, 'Carry On'…
Baby's just a little bit tired of the city
Billboards and bullshit got her down
Seems like you need a little hill country
A little backroads driving
A little bit of that 'ol top down
Yeah, everybody's gotta get away sometime
Forget about yourself for awhile
It seems to me that all you need
Is a ragtop car and a ride with me
Ok, alright
Ya just might get a little high tonight
Ok, alright, carry on…
Fun Facts About This Stretch Of Road:
Videos Shot While Riding On The Tail Of The Dragon
Fasten your seat belt (or your chinstrap, if you're on a motorcycle!), and take a couple of Dramamine tabs first because you are about to go on one LONG and TWISTY ride! Follow along the entire 11 mile journey called The Dragon — beginning at Deals Gap and ending at the Dragon's Tail, including all 318 curves in between!
Other Nearby Scenic Roads
UPDATE: Our Favorite Way To Do The Dragon (On A Harley)
We bought a motorcycle! So of course, one of the first places we were eager to go riding was The Dragon. We live in Nashville, TN and we've gone there quite a few times to experience the Tail of the Dragon our 2005 Harley-Davidson Road King Classic. Here are a few photos:
We post Tail of the Dragon updates, videos, and photos on our fun Motorcycling Board on Pinterest. And if you're into motorcycling — as well as jeeping — then you'll enjoy our articles about fun Motorcycling Tips & Adventures as well.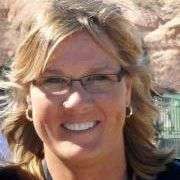 Since we've been married, my husband and I have owned 5 Jeeps (3 Wranglers and 2 Grand Cherokees). And when we're not driving our own Jeep, we're usually renting one (a 4×4 Wrangler on vacation). We keep a Jeep Bucket List of places that we'd like to go next, and we're always crossing more states off our list of 'Places That We've Jeeped in the USA'. As our daily driver, we keep the soft top on our Jeep Wrangler year round (and the back window permanently rolled up) so the dogs can enjoy the ride. Yep… even in the winter! I've been sharing my best Jeep ideas with others by blogging full-time since 1998. When I'm not Jeeping or writing about Jeeps, you'll find me at the corner of Good News & Fun Times as publisher of The Fun Times Guide (32 fun & helpful websites).