This post may contain affiliate links. If you buy thru these links, we may earn a commission at no additional cost to you.
---
If anyone needs some tips for selling a used vehicle in the Nashville, Tennessee area, I guess you could just ask us.
We ROCK at selling cars! (…or more specifically: Jeeps)
First we sold our 1994 Jeep Grand Cherokee in 3 days flat. To do it like we did, you might consider visiting Jose and the guys down at the Super Shine Detail Center in Franklin, Tennessee. Here's why.
Then, this weekend we sold our 1990 Jeep Wrangler YJ — WITHOUT even advertising it! This one went word-of-mouth.
It's A Looker…
We've had a number of "lookers" since the day we bought it. People who've wanted first dibs on it should we ever decide to put it up for sale.
In fact, we've only had it for about a year, and didn't even REALLY want to sell it… but now that we've got a 2004 Jeep Wrangler Unlimited, we figure we'll be able to do everything and more than we could've in the '90 YJ, so it was better to be "smart" about it and use the money to pay off a credit card instead of keep it as a 3rd vehicle/2nd Jeep.
What Goes Around, Comes Around
We decided to give Steve first dibbs.
He's the friend who actually spotted this Jeep for sale out on one of his sales calls. He knew it was just what we were looking for in terms of a 3rd vehicle at the time — a top-down, runabout town kind of car.
He was right. We bought it the same weekend.
Sad But True…
Jim, actually had a hard time letting this Jeep go.
Dear 'ol Scruffy certainly served us well in the short time we had it.

He was quite bleary-eyed watching his trusted Jeep drive away…
It's A Jeep Thing…
Steve and his wife Erin actually test-drove it over a couple weekends, then had it inspected by a mechanic, then bought it as THEIR 3rd vehicle to run around town and have fun in. First stop: the drive-in movies!
In fact, I don't even think it was driving the Jeep that sealed the deal… I think it was peer pressure.
You see, he made the comment that "all these other Jeepers kept waving" at him. It's called the Jeep Wave — it's a secret, undercover form of sign language that only Jeepers share. You may have heard, "It's a Jeep thing…" (In fact, there are rules…)
I think he got sucked in by "the Jeep cult"…
Once a Jeeper (if even for a weekend), always a Jeeper.
Now, you're one of "us", Steve!
RELATED: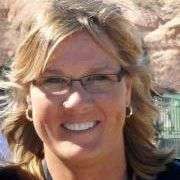 Since we've been married, my husband and I have owned 5 Jeeps (3 Wranglers and 2 Grand Cherokees). And when we're not driving our own Jeep, we're usually renting one (a 4×4 Wrangler on vacation). We keep a Jeep Bucket List of places that we'd like to go next, and we're always crossing more states off our list of 'Places That We've Jeeped in the USA'. As our daily driver, we keep the soft top on our Jeep Wrangler year round (and the back window permanently rolled up) so the dogs can enjoy the ride. Yep… even in the winter! I've been sharing my best Jeep ideas with others by blogging full-time since 1998. When I'm not Jeeping or writing about Jeeps, you'll find me at the corner of Good News & Fun Times as publisher of The Fun Times Guide (32 fun & helpful websites).