This post may contain affiliate links. If you buy thru these links, we may earn a commission at no additional cost to you.
---
Yes, we bought ANOTHER Jeep… our 3rd one!
This one is a Jeep Wrangler "Unlimited". Which doesn't exactly mean what it sounds like: that it's some special edition Jeep like an Eddie Bauer version or something.
Instead, Unlimited refers to the fact that it's an "extended model". The rear seat and trunk area are double that in an ordinary Jeep Wrangler — like dear 'ol Scruffy.
You can barely tell that the Unlimited is larger, but it suits us just perfectly — especially with the two dogs and all the outdoor gear we always tote along.
Plus it's a full-blown 4×4 off-roader, so we're eager to put this Jeep through its paces to see how it handles off the beaten path.
Our Own Used Car Lot?
So yes, now we have 3 Jeeps and a Chevy Malibu.
(Some might think we're trying for the "Redneck Award" in the neighborhood with all these cars parked in front of our house!)
In fact, we have opted NOT to start a used car business from our front yard, and instead will be utilizing the services of AutoTrader.com. (That's how we found 2 of our previous cars, and have been quite happy with them.)
We will be selling my 1994 Jeep Grand Cherokee ("Greenie") and Jim's Jeep Wrangler ("Scruffy").
We will be left with "Boo" (Jim's 1999 Chevy Malibu) and "AJ" (our new baby).
Hopefully, we will be set for awhile now. This one will be my daily driver. But Jim is happy that he'll get to drive it just about as much as me — cuz every time we go out together, he's the driver.
For the record, this definitely isn't the first time that we've had more than your standard "one-vehicle-per-adult" parked in our driveway…
We went through the same thing when we met back in '98. Jim owned a 1998 Ford Explorer, I leased a 1997 Isuzu Rodeo, then I went out and bought a 1999 Isuzu Rodeo. For a week or so there, we were the proud owners of three (3) full-size SUV's!
AJ:  How This Jeep Got Its Name
This Jeep is named "AJ" due to a series of incidents…
FIRST, the owner of the used car dealership was pretty much obligated to tell us why an '04 UNLIMITED model Jeep Wrangler was for sale on his lot with only 2,400 miles on it!!!
The story is this:
A wealthy guy (I won't reveal his name) living in a very wealthy part of town here has done this same thing with about 10 different vehicles on this one particular car lot.
He's purchased the vehicles (usually convertibles) on a whim, had his weekend or two of fun with them, then traded them in for another make & model. For no reason — except for the fact that he's got to try everything once.
Our Jeep Wrangler Unlimited was traded for a BMW convertible.
Enter… Alan Jackson
Before we knew the full story or the actual name of the guy who owned this Jeep, we were convinced that it had to be somebody of Alan Jackson caliber. Who else could purchase such expensive vehicles, then trade them in (at a loss) and do it all over again?
Someone like Alan Jackson…
When we got to thinking about it, we remembered: He does live near us. He already owns a couple of Jeeps. (And he even likes to feature them in his videos.)
Ahhhhhh… our dream had begun. In our minds, we were about to buy a Jeep "previously owned by (someone like) Alan Jackson". And if it turned out that it was Alan Jackson, then what a story THAT would be!
We decided then and there that this vehicle would be named "AJ" — even if the previous owner wasn't Mr. AJ himself. (…but we were sure it was!)
THEN, we purchase the vehicle, hop inside, and what do we find?…
The previous owner's CD collection! (He left it behind.)
And who does he have THREE (3) CD's of????…
None other than Alan Jackson!
AND FINALLY, most people know that we frequent this little hole-in-the-wall Mexican restaurant near our home. We're talking at least once a week. Well, on our first trip to our favorite Mexican restaurant in our new Jeep… (a rite of passage or Christening, you might say), who do we spot sitting at the table near us?… ALAN JACKSON!
I begged Jim to get up the nerve to ask him to autograph our Jeep!… What better "lead in" than to tell him we've actually named our JEEP after him?! But Jim couldn't bring himself to do it.
Then Jim came up with a compromise. He said, "Where are those Alan Jackson CD's the guy left in here?… I'll have him sign one of those." Unfortunately, just before this very trip to the Mexican restaurant, I had removed all CDs from the Jeep — planning to reorganize exactly the ones we wanted to keep in the vehicle, and which ones would stay in the house.
We've since made it a rule: There must be at least one Alan Jackson CD inside this Jeep at all times.
Thus, the name "AJ" has kind of stuck with this Jeep (…and Jim really digs one of those CD's too.)
Besides, even if "the Alan Jackson story" fades through the years, AJ could still stand for "A Jeep"…
Why THIS Jeep? And Why Now?
We weren't particularly in the market for a new vehicle. In fact, we had figured that it would be sometime in early 2006 that we would start looking for a replacement vehicle for my 175,000-mile "Greenie"… or Jim's 155,000-mile "Boo".
See, we knew we'd need a new reliable vehicle soon.
We had in mind a 1-2 year old vehicle (to avoid the immediate depreciation once you drive it off the lot). Something along the lines of an SUV. Thought about a hybrid SUV actually. That's about as far as we got.
So, imagine my surprise when we were out driving around on a Monday afternoon and we happened upon a very good deal on a very rare find (Jeep Unlimited's had barely hit the streets at this time).
How We Knew We Had A Good Deal

It was a 1-year-old vehicle, a Jeep no less — the patron saint of offroaders, under 2,500 miles, and the full factory warranty was still intact (including free oil changes, etc).
This thing was so "new" that some of the "extras" were still in the factory wrapping and just setting in the tailgate area — never even touched!
I guess we were just in the right place at the right time. So we snatched up this 2004 Jeep Wrangler Unlimited in a heartbeat.
We basically got a "new" vehicle, only we didn't have to pay that "new" vehicle price!
Where's The Spontaneity In Waiting 2 Days?
Despite the fact that we practically bought it on the spot on Monday — and within 15 minutes of first eyeing it on the lot — we didn't actually drive it home until Wednesday.
So, that first night (only hours after first spotting the Jeep and deciding we had to have it)… after we gave them a deposit on the Jeep, we said: "Can't wait to take the new Jeep out for a spin."
The next day (Tuesday) when we were twiddling our thumbs waiting for the bank to process the loan, and we did a driveby again that night, we said: "Can't wait to take the new Jeep out for a spin."
Then the next day (Wednesday — I took the day off work), I was at the bank the second they opened (without my baseball cap, by the way), after which, I rushed to the car lot & immediately gave them my money and signed all the papers.
Then I went home, and said: "Can't wait to take the new Jeep out for a spin."
Here's Where The Story Gets Bizarre…
Oh, and did I mention that we bought it without even STEPPING FOOT in it?
I mean we didn't even take it on a TEST DRIVE first!
We simply didn't have time between when we first saw it and all other places we had to be at that time. I know… CRAZY!!!!
We were on a really tight schedule with prior obligations (softball & work)…
Then to top it all off, even after I was the legal owner of this vehicle, I wasn't able to actually drive it off the lot yet!
While Jim was working, I chose to drive my '94 Grand Cherokee home instead, because I needed the day to entire clean it out and get it ready for sale.
Then, after Jim got off work, we went to pick up my new Jeep — and I finally got to drive it!
Mission accomplished, but ugh… the waiting was horrendous! (And stupid. I don't recommend that anyone purchase a vehicle without first test-driving it.)
Cool Info About The Jeep Unlimited
The Jeep Wrangler Unlimiteds first appeared on the market in 2004. This, after one company (in Tennessee) had been making "extended Jeeps" for a few years — basically, modifying the rear seat and trunk area to make it roomier, then selling these longer Jeeps for a price to consumers.
Finally, DaimlerChrysler came out with their own "extended" Jeep Wrangler and called it an Unlimited. That first year (2004), there were only a few made. Same was true with the 2005 models.
So, we're driving something that's fairly unique. And to us, this is in fact a "special edition" Jeep.
And, as evidenced by my scrapbook layout about cars, I've always WANTED my very own Jeep Wrangler:

Reviews of the Jeep Wrangler Unlimited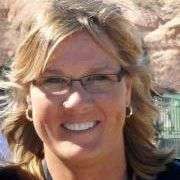 Since we've been married, my husband and I have owned 5 Jeeps (3 Wranglers and 2 Grand Cherokees). And when we're not driving our own Jeep, we're usually renting one (a 4×4 Wrangler on vacation). We keep a Jeep Bucket List of places that we'd like to go next, and we're always crossing more states off our list of 'Places That We've Jeeped in the USA'. As our daily driver, we keep the soft top on our Jeep Wrangler year round (and the back window permanently rolled up) so the dogs can enjoy the ride. Yep… even in the winter! I've been sharing my best Jeep ideas with others by blogging full-time since 1998. When I'm not Jeeping or writing about Jeeps, you'll find me at the corner of Good News & Fun Times as publisher of The Fun Times Guide (32 fun & helpful websites).