This post may contain affiliate links. If you buy thru these links, we may earn a commission at no additional cost to you.
---
We have HID lights in our Harley-Davidson motorcycle. Love 'em! There's nothing like a super-bright set of headlights.
But we still have the factory-installed stock headlights (with halogen bulbs) in our 2004 Jeep Wrangler Unlimited. This means we're basically guided by a small area of yellow light that shines directly in front of the vehicle.
We've complained to each other for the past couple years that our Jeep headlights are so dull, it's hard to see the entire road clearly at night. Sometimes it seems like we don't have any headlights on at all! We've resorted to using the fog lights for our normal driving lights — because the brighter light makes a huge difference.
When the folks at 4Wheel Drive Hardware asked if we'd be interested in reviewing a product from their catalog, we jumped at the chance to install and review this set of Xenon headlights:
7" Round Xenon Hyper White H4 Headlight Kit
We've ordered Jeep parts from 4wd.com in the past and always had a good experience, so we were thrilled to try a new set of headlights from them.
Here's a little about how Xenon headlights work.
2 Time-Saving Tips When Installing Jeep Headlights
For the record, the official installation instructions from the Xenon headlights manufacturer make it seem incredibly easy. And while it's not at all a difficult process to change out headlights, 2 tips immediately come to mind:
You need to use a special tool: either a torx screwdriver set or a torx bit socket set. Torx bits have star-shaped tips that match the Jeep's bolts. For this project we used the sockets, but they were too fat to clear with ease and we wished we had a torx screwdriver set instead.

Changing headlights is easier if you have someone to help you — if nothing else than to shine a flashlight into the tiny space where you're working while trying to line up the torx bit (or trying to find it when it falls).
Every Jeep CJ and Wrangler owner needs these! Torx-style heads are often confused with Allen bolts, but are a unique star-shaped pattern that requires a special tool. Source
Installing Xenon Headlights In A Jeep Wrangler
Here are some photos I took of Jim installing our new Xenon headlights.
7 Reasons Xenon Headlights Are Better Than Halogen
More efficient – they operate at a higher wattage while using less power and running 15% cooler
Better illumination, up to 3 times more light especially on the sides
Emit a higher-intensity, cleaner, whiter light
Up to 90% brighter light
Feel safer driving at night – especially on country roads
Better when driving in fog and bad weather
Last longer, up to 3 times longer
Xenon headlights offer many advantages over halogen ones: based on noble gas, they provide a much brighter light with less energy consumption and last longer than conventional headlamps. Source
Before And After Photos: Halogen vs Xenon Headlights
In addition to the example above with the headlights shining on the wall, you can see in these next 2 photos how the original Halogen headlights (LEFT photo) are much more yellow and less bright than the new Xenon headlights (RIGHT photo) which are whiter and brighter.
Want Brighter Jeep Headlights?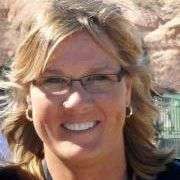 Since we've been married, my husband and I have owned 5 Jeeps (3 Wranglers and 2 Grand Cherokees). And when we're not driving our own Jeep, we're usually renting one (a 4×4 Wrangler on vacation). We keep a Jeep Bucket List of places that we'd like to go next, and we're always crossing more states off our list of 'Places That We've Jeeped in the USA'. As our daily driver, we keep the soft top on our Jeep Wrangler year round (and the back window permanently rolled up) so the dogs can enjoy the ride. Yep… even in the winter! I've been sharing my best Jeep ideas with others by blogging full-time since 1998. When I'm not Jeeping or writing about Jeeps, you'll find me at the corner of Good News & Fun Times as publisher of The Fun Times Guide (32 fun & helpful websites).