This post may contain affiliate links. If you buy thru these links, we may earn a commission at no additional cost to you.
---
If you own a Jeep (we've owned 3), especially a Jeep Wrangler (we've owned 2), then you already know the appearance of the soft top and windows plays a large part in determining how good your Jeep looks.
And how it will look for years to come.
Here's everything you need to know about how to clean the windows on your Jeep Wrangler, plus which products are the best to use that won't damage your soft top windows.
How To Clean Jeep Windows
Perhaps the easiest (and safest) way to care for your vinyl soft top and its plastic windows is to clean the entire surface with a mild dishwashing detergent and warm water. You could also choose a product specifically designed for cleaning Jeep windows and soft top convertibles (see below).
Here are some do's & don'ts to remember when cleaning the windows on your Jeep Wrangler soft top:
DO…
DO use a CLEAN soft terry cloth or cotton rag to wash your windows
DO wipe the windows from left to right or right to left to clean them
DO use a CLEAN soft terry towel or cotton rag to dry the entire surface after washing
DO rinse thoroughly to completely remove whatever cleaning agent you've used
DO apply a protectant to ultimately protect and extend the life of your entire soft top and its plastic/vinyl windows
DON'T:
DO NOT use bleach — it will strip the soft top's vinyl and plastic windows of their natural properties
DO NOT use common household cleaning products — they tend to contain silicone or petroleum solvents
DO NOT use household spray window cleaners — they tend to contain alcohol and/or ammonia which will rapidly dry out the natural oils in your windows
DO NOT use paper towels on the windows — they will definitely scratch your windows
DO NOT apply much pressure while cleaning — because even the smallest particles of dirt can scratch the window
DO NOT wipe in a circular or swirling pattern — this goes against the natural grain of the Jeep windows themselves and could create scratches
Best Products For Cleaning Jeep Windows
So, which product should you use to clean your Jeep's windows? There are many to choose from, yet not all are safe for the windows, and some will even cause Jeep windows to fog, yellow or crack.
As longtime Jeep owners, we have only used Jeep-specific cleaning products when we wash our soft top and its windows. As a result, our windows have always looked great because of it.
Not only is the application process is easy — just spray it on, then wipe it dry — these products will remove even the toughest soils, while repelling dust and dirt and preventing mildew from forming on your soft top. At the same time, they leave no residue, leaving you with a fresh clean surface.
If you plan to own your Jeep for many years, and you care about how it looks, then chances are, you too will only want to use "the best" products when cleaning & maintaining your Jeep.
Consider these…
Top Commercial Products For Cleaning Jeep Windows
Why it's great:
Can be used on both the soft top and the Jeep windows.
Prevents soft top from fading from exposure to UV sun rays — the sun's UV rays break down fibers in threads and weakens vinyl over time, so RaggTopp acts like sunscreen for your soft top.
It's simple… just spray it on, then wipe it dry.
Leaves no residue.
Can even be applied in direct sunlight.
Removes the toughest soils & stains.
Since it doesn't contain silicone, RaggTop cleaner will not harm the paint, chrome, glass surfaces, rubber, vinyl or plastic windows of your vehicle.
Repels dust, grease and dirt, while also lessening the growth of mildew.
Designed exclusively for exterior vinyl to withstand repeated washings.
Truly repels water — even at the zippers and seams — which ultimately guards against small leaks and drips over time.
Tested and endorsed by HAARTZ — the world's leading supplier of convertible topping fabric for virtually every U.S. auto manufacturer, including Chrysler's Jeep division and Bestop.
The non-aerosol formula is also non-toxic.
Environmentally friendly and biodegradable — contains no petroleum distillates, freon, or chlorofluorocarbons and is Ozone friendly.
When used with RaggTopp Protectant afterwards, you're applying a complete system of protection for your Jeep.
#2  303 Convertible Top Cleaner
Why it's great:
Utilizes a unique "colloidal" action to lift and suspend oil, grease and dirt.
North America's largest RV and truck cap manufacturers, van converters, and boat builders use 303. It does not contain soap, detergents, toxic organics, phosphates, nitrates or caustics; also no silicone or petroleum solvents.
It does not contain soap, detergents, toxic organics, phosphates, nitrates or caustics.
Protects against rubber's worst enemies: UV light and ozone.
Actually lifts, separates and holds in suspension the oils, grease, dust, soils, etc., which have been penetrated the surface of your soft-top & windows.
There are no special storage requirements.
It's non-hazardous, non-flammable, non-toxic, non-explosive, non-fuming, non-caustic and 99% biodegradable.
Completely safe to use with no effects from over exposure.
Leaves no residue.
Good for both, vinyl and fabric convertible tops.
As an added bonus: 303's colloid cleaners can also be used as a hand cleaner, to deodorize and clean pet stains from carpets, even for washing fruits and vegetables to remove residue and dirt prior to eating. 303 cleaners are safe for anything that water will not damage.
 Works best when used with 303 Protectant afterwards.
#3  Plexus Plastic Cleaner & Protectant
Why it's great:
Penetrates deep into the surface of the plastic to remove dirt while filling the voids with a micro-thin layer of protective wax.
Developed for use in the aviation industry – specifically, for cleaning and protecting aircraft windshields and painted surfaces.
Recognized as one of the most effective plastic cleaners, protectant sand polishers on the market.
Seals the pores in plastic surfaces with a micro-thin layer of shiny, protective wax, keeping the shine/clarity in and dirt out.
Just spray on the plastic surface, wait a few seconds, then wipe clean.
Regular use will help prevent hazing, yellowing and oxidation which diminishes the plastic's luster, strength and appearance.
Cleans and protects plastic windows — in one step.
Plastic becomes resistant to dirt, debris, oil, and scratches.
Its anti-static properties repel dust and lint.
won't damage your plastic like harsh household cleaners, because there's no ammonia, alcohol, or other harsh products.
Contains no CFCs.
Safe to use on all plastic and vinyl windows.
Gives you a cleaner, more lustrous finish than ordinary cleaners.
Leaves no smears or smudges.
Plexus makes colored plastics vibrant, clear plastic becomes virtually transparent,and plastic paints gleam like new.
Water beads up and slides right off when it rains.
#4 Clear View Plastic & Glass Cleaner / Protectant
Why it's great:
Comes in an aerosol can which is easier than a pump and it won't drip.
Works great on textured surfaces like a Jeep Wrangler soft top.
After cleaning, the entire surface is smooth and shiny; you can tell it's protected without feeling sticky or looking cloudy.
It fills in fine scratches in your Jeep's vinyl windows while protecting from future scratches.
It's ammonia-free so it can be used on all plastic, glass, and painted surfaces… including motorcycles and sunglasses.
Works extremely well on dried up bugs.
It's an incredible glass cleaner on its own.
The cost is half that of most other Jeep cleaners.
BONUS TIP: As an extra precaution, prior to storage (say for the winter), always go through the process of cleaning and protecting your soft top and Jeep windows so they will still appear soft and supple when you take them out of storage.
More Ways To Care For Jeep Windows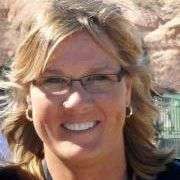 Since we've been married, my husband and I have owned 5 Jeeps (3 Wranglers and 2 Grand Cherokees). And when we're not driving our own Jeep, we're usually renting one (a 4×4 Wrangler on vacation). We keep a Jeep Bucket List of places that we'd like to go next, and we're always crossing more states off our list of 'Places That We've Jeeped in the USA'. As our daily driver, we keep the soft top on our Jeep Wrangler year round (and the back window permanently rolled up) so the dogs can enjoy the ride. Yep… even in the winter! I've been sharing my best Jeep ideas with others by blogging full-time since 1998. When I'm not Jeeping or writing about Jeeps, you'll find me at the corner of Good News & Fun Times as publisher of The Fun Times Guide (32 fun & helpful websites).