This post may contain affiliate links. If you buy thru these links, we may earn a commission at no additional cost to you.
---
Anyone else think these are a good idea?…
They're quick & easy "vents" for your Jeep's rear windows.
Jeep Wrangler Side Vents for Soft Tops
Why are Jeep window vents necessary?
The biggest reason Jim and I would use these soft top vents is to help "de-pressurize the cabin" so to speak.
You know when you're riding around all sealed up tight (windows up, soft top in place), and the minute you turn the heater on (or air conditioner for that matter) your soft top starts to puff out as you're driving?
It also happens when you're riding around with the soft top in place and the rear window zipped in place, but your front window (or windows) are rolled down. The rear windows will start to bulge.
Or, if you're riding around with the soft top in place, rear window zipped in, windows rolled up, and the Sunrider top is open, then you also get the same effect.
The most obvious sign that you've got air pressure issues is the fact that your Jeep's rear side windows will stretch and balloon out a bit as you're riding down the road. In some circumstances, it becomes necessary to crack open a window just to de-pressurize the inside. (Your ears may even pop.)
I'm thinking (hoping!) that Jeep rear window vents would alleviate these types of air pressure issues going on inside the Jeep when the soft top is in place.
In the case of a soft or convertible top for an off-road or utility vehicle such as a Jeep Wrangler, no provision has been made for the exit of air introduced through the heating/ventilation system or through open front door windows or passageways. This is would be a desirable feature, particularly during travel at highway speeds, reducing buffeting of passengers with swirling air and the movement of articles stored in the rear cabin area.  Source: US Patent 6981914
Did you know that Jeep hardtops have rear cabin air vents built into the hardtop itself? Until now, Jeep soft tops have had no means of achieving the same results.
But wait, there's more!
Other reasons you might want rear window vents for your Jeep (according to the patent) are because these vents:
Provide a rear cabin air vent for vehicles with soft tops.
Provide a relatively large air vent which vents air from the cabin while keeping out rain by the
incorporation of fixed louvers.
Provide "cooling ventilation when the vehicle is parked and secured in warm weather"
Promote fresh air flow throughout the cabin when that air is introduced near the cabin front, such as through a heater/blower system.
I'll take two, please
Overall, I think these rear window Jeep vents are a great idea.
I especially like how you can put 'em in and take 'em out, on the fly, whenever you want!  There are no modifications to the Jeep necessary. No tools or parts required… just these 2 slim side vents. Period. And the heavy-duty velcro works perfectly with the Jeep's own hook and loop material around the windows.
And the additional "rain-guard" protection, sloped louvers, etc… it's obvious that a lot of thought and hard work have gone into the intricate details of this product. I hope it takes off.
Now, someday remind me tell you about my Jeep soft top rear window protector idea — for when you roll the window up while it's still attached to your Jeep's soft top and tucked into the rear straps!
P.S.  In case you're wondering, I don't know the inventor of these Jeep window vents or anything. (His name appears to be Lee, according to the Comments posted below the video.)  Pssst. Lee… when you get the product released, let me know. We'd be happy to try 'em out and write a review!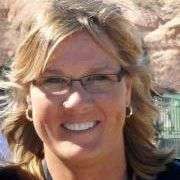 Since we've been married, my husband and I have owned 5 Jeeps (3 Wranglers and 2 Grand Cherokees). And when we're not driving our own Jeep, we're usually renting one (a 4×4 Wrangler on vacation). We keep a Jeep Bucket List of places that we'd like to go next, and we're always crossing more states off our list of 'Places That We've Jeeped in the USA'. As our daily driver, we keep the soft top on our Jeep Wrangler year round (and the back window permanently rolled up) so the dogs can enjoy the ride. Yep… even in the winter! I've been sharing my best Jeep ideas with others by blogging full-time since 1998. When I'm not Jeeping or writing about Jeeps, you'll find me at the corner of Good News & Fun Times as publisher of The Fun Times Guide (32 fun & helpful websites).