This post may contain affiliate links. If you buy thru these links, we may earn a commission at no additional cost to you.
---
We all know that dogs love Jeeps.
But there's no denying that kids love Jeeps, too — probably even more!
I know the times we've taken our nephew Jeepin' he's had the time of his life, especially when we had the soft top off the Jeep Wrangler.
In case you're thinking of buying a Jeep (or taking your little one for a ride in a rented Jeep someday soon), I found some interesting things about kids and Jeeps that you might enjoy….
Jeep Stuff For Kids
For starters, if you're wondering just how popular Jeeps are with kids of all ages, have a look at all of the Jeep merchandise designed and sold just for children!
Here's just a sampler:
Jeeps are the perennial bestsellers among the Power Wheels lineup, which produces enough battery-powered vehicles every year to put it in the league of the world's top 5 automakers based on numbers. Source
The Jeep Consumer Products line – targeted toward adults, teens and kids – includes more than 60 licensees worldwide, manufacturing a wide variety of products, including bicycles, camping equipment, diaper bags, electronics, eyewear, footwear, infant accessories and products, kids' clothing, luggage, men's clothing, mountain bikes, mountain boards, office chairs, socks and toys.  Source
Fun Things To Do With Kids In Jeeps
Jeep geocaching (…because kids love geocaching! It's simply where you find hidden treasures with — or without — a Jeep.)
Organized Jeep events (…they're held all over the country. Most of Jeep's own official events — like Jeep Jamborees and Jeep 101 — are set up to include kids in the fun as well.)
Safari tours (…just visit an animal preserve near you, or leave the driving up to the experts as your child enjoys the Jeep safari experience at places like theme parks and zoos.)
What About Seatbelts?
If you're wondering about the placement of car seats & booster seats inside a Jeep, there are only 2 seatbelts in the back of a 2-door Jeep Wrangler Unlimited, but there are 3 seat belts in the back of the 4-door Jeep Wrangler Unlimited.
The Jeep Wrangler Unlimited Rubicon, however, goes a step further than other 2-door model Jeep Unlimited's by having the 3-point seat belts for rear-seat passengers as a standard option.
Jeep Wrangler Unlimited Rubicon also features standard Lower Anchors and Tethers for Children (LATCH) child seat anchorage system. The LATCH system works in conjunction with the standard child seat tether anchors to ease the installation of child seats. In addition, front seats are equipped with constant-force retractors and seat belt pretensioners. Pretensioners tighten the seat belt in order to keep the occupant in place while constant-force retractors balance the load on the upper body reducing injuries from excessive seat belt force. Source
View seat belt laws by state.
Check out the car seat data for the Jeep Wrangler Unlimited.
Jeep Rides – In The Eyes Of A Child
If you really want to bring the spark back to a bored child's eye, ask them if they want to go on a Jeep ride instead of a car ride!
It doesn't really matter where you go, nor how far you go… we've found that the simple act of being in the Jeep with the top down is priceless to a child.
You can take a kid around the block in a Jeep Wrangler and he'll rave about it for days — especially if the soft top is off!
So, why not explore the great outdoors with your child safely buckled in on the next beautiful sunny day?
And, for the ultimate in Jeep rides with kids… take the soft top off the Jeep Wrangler, apply sunscreen to all aboard, give your little one a disposable camera, and get ready for some wild and crazy Jeep fun — all in the eyes of a child!
We've done this with our nephew Dylan. And we all had a blast.

Kids Of All Ages Love Jeeps
Little kids aren't the only ones to love Jeeps….
Lots of first-time drivers wish their very first vehicle could be a Jeep. And Jeep Wranglers are extremely popular among the 20-something crowd.
Rest assured, the automakers are fully in tune with what young drivers want and they go to great lengths to market to a younger generation of drivers. For example, check out the Top 10 Jeep Commercials.
And it's no shocker that kids and their parents don' t always agree on the best vehicle choice. Here's more about kids vs parents' preferences when it comes to the best vehicle for teens. Teens rank a Jeep Wrangler as #2 on the list of top 10 vehicles they want to drive, while parents rank the Jeep Wrangler #10 on the list of top 10 vehicles they want their children to drive.
Here are our best tips before you buy a Jeep Wrangler, including the pro's and con's of Jeep Wrangler Unlimiteds.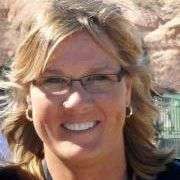 Since we've been married, my husband and I have owned 5 Jeeps (3 Wranglers and 2 Grand Cherokees). And when we're not driving our own Jeep, we're usually renting one (a 4×4 Wrangler on vacation). We keep a Jeep Bucket List of places that we'd like to go next, and we're always crossing more states off our list of 'Places That We've Jeeped in the USA'. As our daily driver, we keep the soft top on our Jeep Wrangler year round (and the back window permanently rolled up) so the dogs can enjoy the ride. Yep… even in the winter! I've been sharing my best Jeep ideas with others by blogging full-time since 1998. When I'm not Jeeping or writing about Jeeps, you'll find me at the corner of Good News & Fun Times as publisher of The Fun Times Guide (32 fun & helpful websites).