This post may contain affiliate links. If you buy thru these links, we may earn a commission at no additional cost to you.
---
One of the more fun (and unique) things that we do with our Jeep is called Geocaching.
But the truth is, you don't need a Jeep at all. You just need a handheld GPS device (or a cellphone with GPS enabled).
You see, there are caches (bundles of fun freebies) hidden all across the world just waiting to be found by everyday people like you and me.
The adventure comes in the lengths that you will go to find them. Some are hidden in parking lots, on main roads, and in fairly obvious and easy-to-get-to locations. Others vary in the degree to which they are "off the beaten path".
So no matter what your level of adventure is, there's a hidden cache that you will enjoy finding.  And for those who enjoy puzzles, you'll appreciate the fact that many of the hidden caches can only be "found" by deciphering some simple code, puzzle, or clues first.
How Do You Get Started Geocaching?
There's really only one place to start Geocaching. Go to Geocaching.com and register.
Yes, in order to see the details of what's in a cache and precisely where the caches are located, you have to be signed in as a registered member. You can choose from a Basic Membership or a Premium Membership. (We just have the free one right now, but we may consider a premium membership soon.)
With the FREE Basic Membership, you get:
Access to the hidden cache locations — you can view longitude & latitude coordinates, as well as location details information for all geocaches that have been hidden. To find 'em, you can search by city, state, or zip code.
And you can share your Geocaching experiences online with fellow geocachers. Write about your experience in the geocache logbook and share your Geocaching stories and photos online with those who are participating in this sport. (Just don't show the cache or tell what's in it!)
With the Premium Membership, you get access to the hidden cache locations, and the ability to share your Geocaching experiences and photos with fellow geocachers (like with the Basic Membership), but you also get:
The ability to organize your geocache listings and create your own favorite lists. You see, once you get started, there are SO many caches that you want to find (and hide yourself, too). And it begins to get overwhelming with so many fun choices.
You can create custom searches based on geocache size, location, attributes and more with "Pocket Queries".
Be instantly notified of Geocaches — so you'll have a chance to be FTF (the first to find) a new cache.
Find geocaches along a route on your next road trip. Tell them where you're going, and they'll let you know what geocaches are along the way.
I encourage you to sign up for the FREE membership first. See what Geocaching is all about. And if you like it, and need a better way to keep track of all the caches you want to find, then move up to the Premium membership. It really is a good deal. Just make sure you're going to have the time, energy, and desire to find hidden caches more than just once in awhile first.
The Basics Of Geocaching
I would encourage you to reach through these articles. They include the "best of the best" tips to get started Geocaching.
Then, my advice before you head out to find your first cache would be to look around your house now for some small and medium-sized trinkets that you can leave behind in caches that are large enough to accept items. It's considered "Geocaching etiquette" that you take one item from a cache, and leave another item of equal or greater value in return. That keeps the caches alive and ever-changing, and fun for everyone who finds them — even years later!
Finally, after you find your first cache, come back home and log your experiences with each of the caches you found (if more than one) at Geocaching.com.
Codes & Phrases Used In Geocache Logs
The following Geocaching lingo will appear in the online logs found below each cache's details. Warning, in those same logs, you are likely to find "spoilers" or clues that will make it much easier to find the hidden caches than if you were to search out the spot on your own.
Muggles – People who are not geocachers. (Taken from Harry Potter books)
BYOP – "Bring Your Own Pen."
TFTC – "Thanks for the Cache."
SL – "Signed Log." (At the site of the actual cache.)
TNLN – "Took Nothing Left Nothing."
DNF – "Did Not Find."
PAF – "Phone A Friend." (Usually, a friend is called upon to read through the logs for a particular cache; or someone who has found this cache before is phoned for advice.)
FTF – "First To Find." The very first person to locate a cache after it has been placed.
CITO – "Cache In, Trash Out." (Remove any trash you find while searching for a cache.)
P&G (or PNG) – "Park and Grab." (A easy-to-find cache that you can get very close to by car.)
TB (or Bug, or Travel Bug) – An item with a unique tracking number assigned by Geocaching.com that travels from cache to cache. If you find one, you're re expected to place it in a different cache within a reasonable amount of time, so it can continue its journey.
Travel Bug Hotel – A geocache which serves as an exchange point for Travel Bugs that are on long journeys.
R.O.W. – "Right Of Way." (The area between the street and the sidewalk.)
UPS – "Unnatural Pile of Sticks." A common telltale sign of a hidden cache. (Sometimes UPR – "Unnatural Pile of Rocks")
Sources: GeoLex / Geocaching Glossary / Groundspeak Forum Terms
The Next Step: Hide Some Caches!
Finally, after you've found a few hidden caches, and you  have a better idea of what people are looking for inside a cache, then you can take Geocaching to the next level by hiding a cache or two yourself.
Jim and I have been saving up some unique items to hide in caches, and we look forward to seeing who finds our stuff and what others think of the caches we leave behind. Now we just have to find the "perfect" places to hide caches — either near where we live, or when we're traveling out and about. So, for us, this is getting more and more fun every day!
In case you're wondering, Geocaching is an activity that is so well-organized and so widespread that many (including myself) consider it a sport. It's definitely a close-knit bunch of folks who participate in Geocaching. And it's tons of fun. You never know what you're going to find.
Places To Try Geocaching
Along these same lines… nothing says the act of Geocaching has to take place just around your home town.
Whenever you're traveling to new places, do a quick search for hidden caches in the areas where you'll be traveling. Fun Fun Fun! And, keep an eye out for Travel Bugs in certain caches… they're intended to travel across the country from cache to cache. If you see one, re-hide it with your own fun goodies!
As a bonus: Geocaching turns a ho-hum camping trip into a more adventurous one. Same is true with a bike ride. And Geocaching is also a great activity to do with kids of all ages! (They even use Geocaching to promote scouting these days.)
More About Geocaching
For more information about Geocaching… in addition to Geocaching.com, I encourage you to check out:
Those are the top Geocaching sites for those who are "in the know" about all things Geocaching!
Need a new GPS? Here are some features you may want your next GPS unit to have, if you'll be Geocaching a lot.
Check out this fun photo gallery of the geocaches that one individual has found. (Notice he doesn't give up the details of any hidden cache.)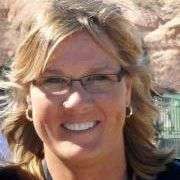 Since we've been married, my husband and I have owned 5 Jeeps (3 Wranglers and 2 Grand Cherokees). And when we're not driving our own Jeep, we're usually renting one (a 4×4 Wrangler on vacation). We keep a Jeep Bucket List of places that we'd like to go next, and we're always crossing more states off our list of 'Places That We've Jeeped in the USA'. As our daily driver, we keep the soft top on our Jeep Wrangler year round (and the back window permanently rolled up) so the dogs can enjoy the ride. Yep… even in the winter! I've been sharing my best Jeep ideas with others by blogging full-time since 1998. When I'm not Jeeping or writing about Jeeps, you'll find me at the corner of Good News & Fun Times as publisher of The Fun Times Guide (32 fun & helpful websites).