This post may contain affiliate links. If you buy thru these links, we may earn a commission at no additional cost to you.
---
If you're thinking of taking your Jeep — or any other vehicle — offroad for the first time, I know how you're feeling. I've been there.
No matter how good a driver you are, offroad driving is different from driving on paved roads.
So it only makes sense to take a few minutes preparing yourself and your vehicle for your first trip offroad.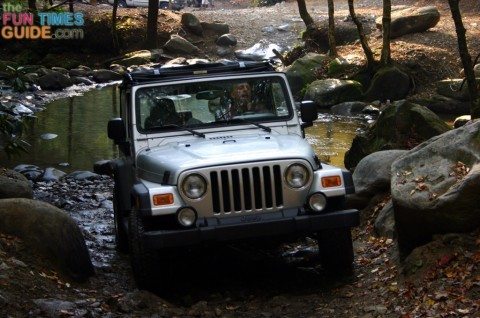 Here's what you need to do…
Before You Go Offroad
#1  Take a quick read through your vehicle's owners manual. Know your vehicle and how it works before you venture offroad. For example, do you know your vehicle's ground clearance? In addition, it's important that you understand how to lock your vehicle into four-wheel drive and when to use 4WD vs when not to. [link]
#2  Before you venture too far offroad, it's also wise to see how your vehicle handles on narrow roads, steep inclines, and even through creeks if you have some drivable ones nearby. (In middle Tennessee we have plenty of these!) Take the time to practice on gravel or dirt roads first to get a feel for stopping and accelerating on various types of terrain.
#3  Research a couple of different offroad locations first, so you'll know if there are areas that are suitable for your vehicle and for your experience level. It's important to know the trail conditions BEFORE you go. For your first time offroad, try to find a relatively easy trail or offroad course. Two of my favorite places to ride are:
ORV Parks – They charge small daily use fee. There are usually lots of different trails to choose from, ranging in difficulty from beginner to advanced. There are also lots of fellow offroaders enjoying the trails and the great outdoors with you.
U.S. Forest Service roads – These areas are very seldom traveled by everyday drivers; they're used mostly by Forest Rangers and state workers. There's no charge to ride on these roads that you'll find off the beaten path, just make sure you get a map before you go from the nearest Ranger station!
#4  Once you decide where you're going to go offroading, check the weather for that day, that evening, and the next day. Pack appropriately just in case you get stranded. You never know! (I like Weatherbug best because it shows the forecast by hour for each day. Plus, there's a desktop version, a browser extension, and a smartphone app — so you can have the weather at your fingertips whenever you want it.)
#5  Take the time to compile an offroad checklist that you will change and modify over time as you get more familiar with offroading. You can use one of these offroad checklists as a guide. Keep yours handy and refer to it each time you venture offroad.
#6  Don't ride alone. In addition, always tell someone else where you're going and when you're planning to return. Again, better safe than sorry.
Video Tips For Driving Offroad
Now, here's a video I made back when I ran the 4WD & Offroading site at About.com — where I describe each of the above tips more thoroughly:
I've been writing about Jeeps since 1998 (the same year that Google started… and before the days of Facebook and YouTube). We started this Jeep site in 2004. I've always been a Jeep guy — and I enjoy tackling simple Jeep DIY projects myself.