This post may contain affiliate links. If you buy thru these links, we may earn a commission at no additional cost to you.
---
The Tellico ORV Park in Murphy, NC is permanently closed.
However, I was recently looking through our pictures from a day we spent there a few years ago…  and I realized that I'd never posted them here.
So I thought I'd take a few minutes and share what it was like offroading at Tellico.
The Tellico OHV System is located in Cherokee County North Carolina, about 13 miles north of Murphy. The approximately 39.3 miles of existing roads and trails that comprise the OHV System are concentrated within an area approximately 8,000 acres in size. The area borders Monroe County, Tennessee, and the OHV System is accessible from both states. Most of the OHV System occurs within the upper Tellico River watershed. The Tellico River flows from its headwaters in Cherokee County, North Carolina through the area that encompasses the OHV System and on into Tennessee. The North Carolina Wildlife Resources Commission in 1991 classified the North Carolina segment of the Tellico River as "Wild Trout Waters." This section of the river contains self-sustaining wild trout populations, native brook trout in particular. The State classification was a factor that helped make the 5.8 miles of the Tellico River in North Carolina eligible and suitable for possible future inclusion in the National Wild and Scenic Rivers System as a Recreational River. The OHV System was established May 1, 1986 with an amendment of the Off-Road Vehicle (ORV) Management Plan for the National Forests in North Carolina. Source
Our Day Spent Offroading At Tellico ORV Park
Soon after we bought our 2004 Jeep Wrangler Unlimited, we drove from Nashville to Tellico ORV park for a day of offroading.
Our Jeep was completely stock, however Jim was feeling adventurous enough to tackle one of the more challenging trails.
Here's how things went…
We entered the Tellico ORV Park in Murphy, North Carolina, paid the fee to ride there for the day, and got our Upper Tellico ORV Area trails map for the Nantahala National Forest area.
Finally, we began exploring some of the offroad trails. There are 12 different trails for all types of offroad enjoyment:
4wd vehicles
ATVs
Dirt bikes
It was a weekday, so the place wasn't packed.
Tellico is an unusual place, loaded with rocks of all sizes from small to extremely large and H2O seems to be present all year. The riding is easy on most roads and difficult to very difficult on some roads. The difficult roads were roads that were littered with rocks the size of your coffee table or steep inclines with 3′ to 4′ vertical rock faces in the middle of the climb. The dirt roads at Tellico will accommodate only one vehicle at a time and the roads are lined with large boulders on both sides. — Georgia Offroad
A Few Of Our Tellico 4×4 Photos
Following are photos that we took on two of the Upper Tellico offroad trails.
Tellico ORV Area was donated a couple of decades ago by a logging company and consists of 12 trails of varying lengths and difficulty. The trails consist of rocks, mud, big rocks, ruts, loose rocks, steep hills, rock ledges, a few water crossings, highly eroded dirt "walls" with roots and rocks protruding from the sides (sidewall eaters) and rock gardens. The easy trails can be run with stock vehicles, vehicles that do the medium trails should have 33″ tires and a rear locker, the hard trails require 35″ tires, front & rear lockers, winch, and a disregard for body damage. Our "hard" trails are quite different than the ones out west; with they're near perfect traction. More times than not, you'll find the trails at Tellico to be wet with several of the hardest obstacles have seeping springs located right at the base of them. Ultra low gears are not needed here and sometimes hurt more than they help, as wheel spin is required to clean the tires and heat up the rubber in hopes that they will stick to the wet rocks. You will see a lot of local rigs here with 300 horsepower and tires in the 40″+ range. These big rigs (locally called hybrids or cab trucks) are what keep our trails interesting. When they "hammer down" they tend to move large quantities of rock and dirt, so the trails are in a constant state of change. Therefore, the "line" that worked for you on your last trip, may not be the correct approach the next time out. That's what makes this place such a hoot to ride.it's always changing! — Carolina Rover Owners Club
Tellico Trail #5
Rated Moderate. Challenging level 5 & 6 with some ledges and rocks. The creek crossing that used to be known as "Rough Crossing" has had the obstacles removed that made it a challenge. A bridge is also going to be built across it to reduce the amount of sediment washed into the stream. 
Has a water crossing.
Requires a small lift to clear the huge boulders found along the way. Or, try your hand at some very skilled driving (which is what we chose to do).
You will drag a lot.
It took us hours of strategic maneuvering to get through a number of tight spots.
People will roll their eyes at you for taking a stock jeep up an advanced level trail. (Yep, been there, done that! We have since had our Jeep lifted and got new tires & wheels)
"…NOT for beginners!"
This is where we had to extricate our Jeep from its rocky tomb… It was good. Until it wasn't!
Tellico Trail #1
Rated Easiest. We agree and give this one a 1. This is the rough dirt road running through ORV area from NC to TN. Even though this is the easiest trail in the ORV area, you still need to pay close attention while driving. One weekend last year (2000) in Sept., two different vehicles ran off the side and rolled down the mountain. It is very steep with nothing to stop you, except a tree if you're lucky.
Basically just a dirt road.
Requires no lift, and you don't even have to use 4WD when traversing this simple route.
Even though it's a simple trail, you have to pay attention to what you're doing because it's a very narrow road which allows two-way traffic, and there are no shoulders to pull over. A careless move could sen you over the side of the mountain!
There are a couple of switchbacks.
I specifically remember Tipton Creek Road.
"…Tame, if not boring."
This is where we drove the fastest speeds on dusty roads…
Camping Near Tellico
Overall, Tellico was a super fun place for us to go offroading — especially since there's plenty of camping nearby.
There are campgrounds in just about every direction surrounding Tellico.
They're all first-come-first-serve. No reservations. (Also no running water.) There were a handful of public restrooms (basically, glorified outhouses disguised as restrooms with cement walls) throughout the ORV park.
At the southern end of the Appalachian range lies an off-road playground named Tellico, where the trees form graceful canopies, the trout gurgle in quiet streams, and the trails, according to Off Road Magazine, would make a packhorse vomit. Tellico's called The Bad Boy of the East, and its tougher runs have been known to turn a stock Jeep into scrap metal in half a mile; but it also offers moderate trails for novice drivers. On the imaginatively named Trail #3, for instance, foot-deep ruts and rock ledges somehow manage to bounce you around like you're a punker in a mosh pit without damaging your precious ride. If, on the other hand, you'd like to send your mechanic's kids to college, try the trail that leads to what's known as The Helicopter Pad. Slide an inch on its near-vertical ascent and you'll be doing cartwheels. "Take an expert along on this one; don't go alone. I'm serious," warns Bob Hazel, who organizes the annual four-wheel-drive Dixie Run in Tellico. "Otherwise you'll take your Grand Cherokee home in a dustpan." — Maxim Online
Other 4Wheeling Opportunities Nearby
Finally, I want to give some props to the Southern Four Wheel Drive Association.
The Southern Four Wheel Drive Association (SFWDA) maintains the Tellico ORV trail system and contributes thousands of dollars and man-hours to this endeavor each year. — Outdoor Track and Trail
Everywhere you look around Tellico, there's evidence of the hard work and dedication that this group has for the Tellico area… and beyond.
If you're considering joining a local Jeep club, have questions about offroading in the area, or you're looking for someone to ride with, contact the fine folks at SFWDA!
Here's their list of great places to go 4-wheeling in the southeastern USA.
Here's more about the closure of Tellico ORV park, plus some updates here.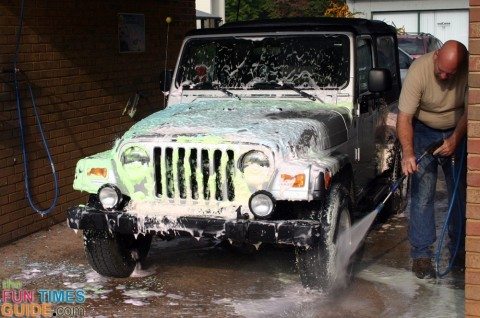 Jeep Offroad Tips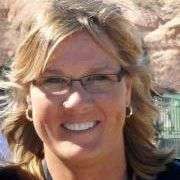 Since we've been married, my husband and I have owned 5 Jeeps (3 Wranglers and 2 Grand Cherokees). And when we're not driving our own Jeep, we're usually renting one (a 4×4 Wrangler on vacation). We keep a Jeep Bucket List of places that we'd like to go next, and we're always crossing more states off our list of 'Places That We've Jeeped in the USA'. As our daily driver, we keep the soft top on our Jeep Wrangler year round (and the back window permanently rolled up) so the dogs can enjoy the ride. Yep… even in the winter! I've been sharing my best Jeep ideas with others by blogging full-time since 1998. When I'm not Jeeping or writing about Jeeps, you'll find me at the corner of Good News & Fun Times as publisher of The Fun Times Guide (32 fun & helpful websites).