This post may contain affiliate links. If you buy thru these links, we may earn a commission at no additional cost to you.
---
Last year, we thought it would be fun to carve some Jeep pumpkins for a change.
But we couldn't find any Jeep pumpkin templates anywhere. So we created our own.
We're sharing them below – for you to use too!
Let The Jeep Pumpkin Carving Begin!
We were excited to try out the new Jeep templates we created.
On Halloween night, we set out to live up to our fame and glory as "the pumpkin masters of the neighborhood." (We failed miserably.)
Even though we are always the last ones carving pumpkins on the porch each year (usually still carving up to the very minute that the trick-or-treaters start arriving), we usually manage to create some pretty cool looking pumpkins in the end. This time, however, was another story.
Jim: The Jeep Grill Guy
Jim had his heart set on carving "the coolest Jeep grille ever!"
To me, the Jeep grille template is just too simple.
To Jim: it's classic.
To the public: it's… it's… railroad tracks?
Just kidding. People (especially the Jeep fans in the neighborhood) knew what it was. But we certainly didn't do it justice with our less-than-perfect straight lines — which ultimately make a grille a grille.
Lynnette: The Jeep Wrangler
I, on the other hand, had it in my head that the Jeep Wrangler template would surely yield the world's best Jeep pumpkin.
…And people would be talking about it for years to come.
(They might have… if it had been completed by the time Halloween was over!)
Some Modifications Are In Order
Here's what we learned about our homemade Jeep pumpkin stencils (version 1.0)…
You need more than 10 minutes to undertake such a project — especially for the first go-around with some new templates.
The pattern itself could be a tad bigger for better overall perspective (i.e. to look "sharp" and clear from a distance). TIP: Just enlarge it before printing.
The cut out spaces should be thicker to add more dimension and allow more light through.
If you allow say… 30 minutes instead of 10 (before the trick-or-treaters started arriving, and we ran out of time) then you might have time to actually carve out the grille part, and some of the other minor details which we completely ignored.
Overall, if we'd taken our time, made the cuts cleaner, and sharpened up the edges, then our Jeep pumpkins surely would've won the "best pumpkins on the block" contest again this year.
With a little more planning and better use of our time in the days leading up to Halloween, perhaps we'll have better luck next year…
We Still Had Fun!
Jim made some friends — and a few enemies — when he offered all the kiddos a handful of GOO (slimy pumpkin seeds & string) in lieu of sweet treats from the candy dish.
And I made a point to invite everyone who took an interest in our pumpkin-carving-on-the-porch to "check back tomorrow… because that's when our pumpkins will probably be finished!"
In the end, the simplest of them all may have been the best-looking pumpkin we created on this night: a simple smiley face on a squash gourd — no template required!
More Of Our Halloween Tips & Ideas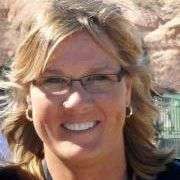 Since we've been married, my husband and I have owned 5 Jeeps (3 Wranglers and 2 Grand Cherokees). And when we're not driving our own Jeep, we're usually renting one (a 4×4 Wrangler on vacation). We keep a Jeep Bucket List of places that we'd like to go next, and we're always crossing more states off our list of 'Places That We've Jeeped in the USA'. As our daily driver, we keep the soft top on our Jeep Wrangler year round (and the back window permanently rolled up) so the dogs can enjoy the ride. Yep… even in the winter! I've been sharing my best Jeep ideas with others by blogging full-time since 1998. When I'm not Jeeping or writing about Jeeps, you'll find me at the corner of Good News & Fun Times as publisher of The Fun Times Guide (32 fun & helpful websites).