I wrote awhile ago about that amazing stretch of roadway called Tail of the Dragon.
The Dragon's Tail has 318 curves in just 11 miles, so it's no surprise that there are some tragedies and mishaps along the way.
Many of them are memorialized on the "Tree of Shame".
Jim and I took the following photos the first time we rode the Tail of the Dragon.
We stopped at Deal's Gap Motorcycle Resort, which is the home of the Tree of Shame.
It is a makeshift shrine to those bitten by the Dragon. After riders have successfully slayed the Dragon, they can smile at the parts left behind by other riders who were not so fortunate." Source
Jim was in awe looking at the end result of so many crashes…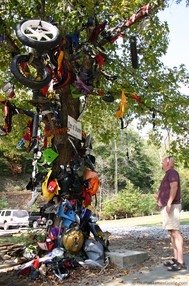 More about the Tree of Shame at Deal's Gap.